Mythic Delirium 24: a cover (at last) and a review
Mike Allen
/ Wednesday, May 25th, 2011 /
No Comments »
Presenting, at last, the cover art for Mythic Delirium 24: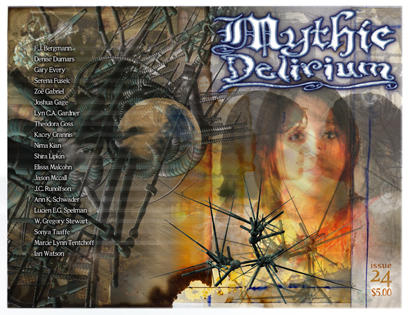 So, obviously, the issue itself won't be reaching folks until June. We apologize sincerely for the delay.
I can however offer some proof that the issue is worth the wait. Alexa Seidel has written a review that's now up at the Fantastique Unfettered website:
"[A] venture into lightheartedness" is what editor Mike Allen calls this latest issue of Mythic Delirium. The poetry assembled here certainly makes for an excellent adventure, and lightheartedness often plays a part, but even so, all these lyrical quests have a weighty center.
Congrats to contributors Elissa Malcohn, Ian Watson, Marcie Lynn Tentchoff, Lucien E.G. Spelman, Serena Fusek and Shira Lipkin, whose poems receive special mention.