Mike Allen
/ November 25th, 2023 /
No Comments »
2023 has been a spectacular, extraordinarily special and extremely stressful year. A whole lot happened during the past five months, with events moving faster than the speed of a blog.
First, it's high time I shared Ye Olde Annual Award Eligibility Post, both for the books and stories produced by Mythic Delirium Books (aka Anita 'n' me) during our 25th anniversary year — and also for the short stories I had published during this 31st year of me being around as some sort of journeyman writer.
And so:
Mythic Delirium Books

Novel

The Twice-Drowned Saint by C. S. E. Cooney, Mythic Delirium Books, Feburary 2023
Short Fiction Collections

The Collected Enchantments by Theodora Goss, Mythic Delirium Books, February 2023
Like Smoke, Like Light: Stories by Yukimi Ogawa, Mythic Delirium Books, June 2023
Novelettes

"Saint Orsola and the Poet" by Theodora Goss, from The Collected Enchantments, Mythic Delirium Books, February 2023
"The Tree, and the Center of the World" by Yukimi Ogawa, from Like Smoke, Like Light: Stories, Mythic Delirium Books, June 2023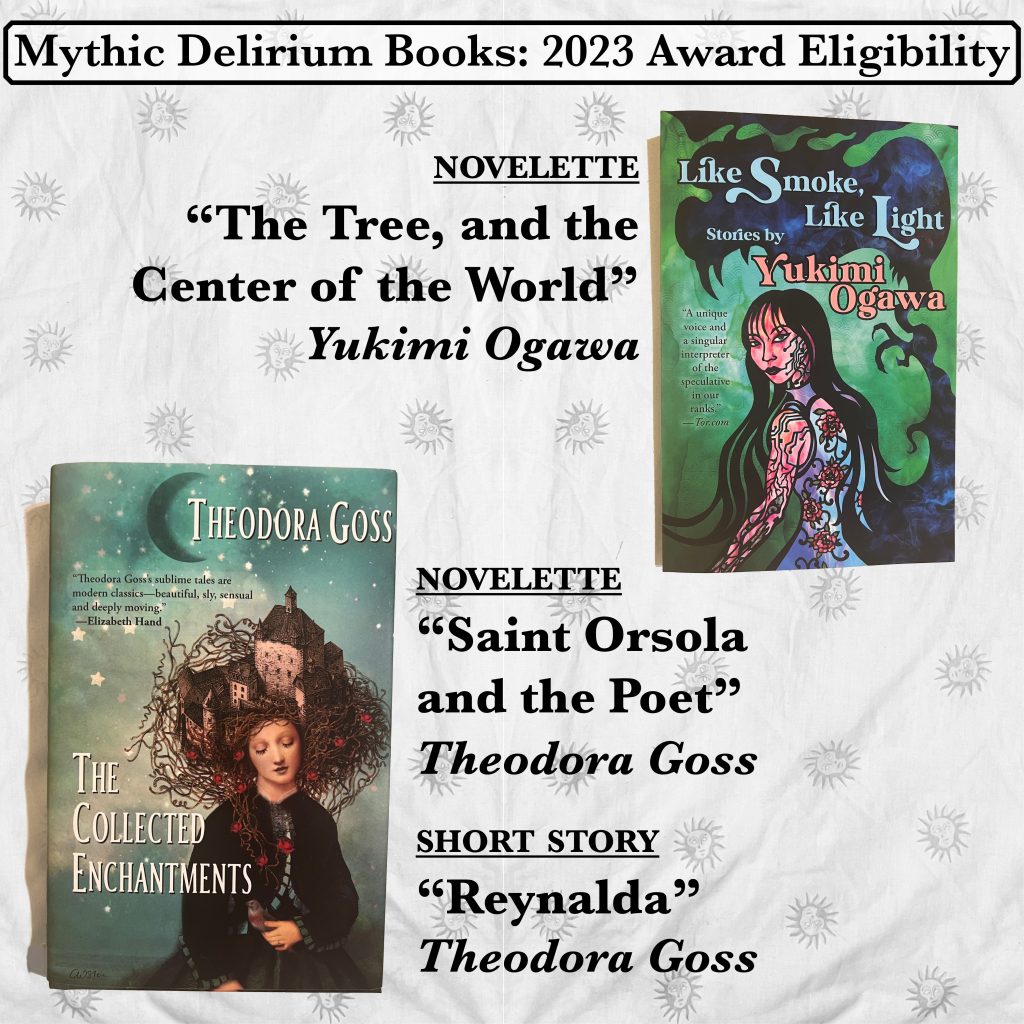 Short Story

"Reynalda" by Theodora Goss, from The Collected Enchantments, Mythic Delirium Books, February 2023
Short Stories by Mike Allen

"Slow Burn," Cosmic Horror Monthly #33, March 2023
"The Green Silence," The Pinworm Factory: A Tribute to Eraserhead, ed. Scott Dwyer, Plutonian Press, 2023
"Good to the Last Drop" by Mike and Anita Allen, Sudden Fictions Podcast #21, May 26, 2023
Anyone interested in looking any of these over for award consideration is welcome to contact me at mythicdelirium[at]gmail[dot]com or use the contact link in the right sidebar of this website.

Other stuff that's happened since StokerCon in June:
Reconstruction surgery of my right knee, and multiple complications since, including a three night hospitalization because of cellulitis, ulp! Here at the end of November, I am not yet out of the woods, but trending in the right direction, at least. Needless to say Anita's support has been absolutely vital throughout every step of this. Love you, sweetie!

________________________

Three video podcast interviews: two episodes of "Read All Over Show" with Toi Thomas that you can view here and here, and one "Skull Session" episode with Dan Henk that you can view here. I'm grateful to Toi and Dan for reminding me who I am and who I want to be during this at-times harsh recovery process.

An interview that Mason Adams of West Virginia Public Radio's "Inside Appalachia" conducted with me and with Anita that aired just in time for Halloween. I read a passage from my long-time horror standby "The Button Bin" and talked about things that made me what I am now and name-dropped several other writers with Roanoke and Appalachian connections.

Two Halloween-adjacent book signing and selling events, the first at Roanoke's independent store Book No Further, during which I joined forces with fellow Roanoke supernatural yarn spinners R. S. Belcher and Amanda J. McGee to give a street-side reading titled Dark Tales from the Star City. For the second event, Anita and I returned to the Libbie Place Barnes & Noble in Richmond for Halloween Hangover II, where so many horror authors turned up that it was practically a StokerCon reunion. Highlights included catching up with Lucas Marino, whom we first met at StokerCon, and reconnecting with Krishna Knott, our longtime buddy from No Shame Theatre's downtown Roanoke heyday.

A surprise invitation to be Author Guest of Honor at next year's CrashCityCon in Roanoke!

________________________

On the Mythic Delirium front, C. S. E. Cooney's 2022 collection Dark Breakers was a finalist for the World Fantasy Award! And though Dark Breakers didn't win Best Collection, Claire did win Best Novel for Saint Death's Daughter, much to our delight! (We sold copies of that bright pink paperback (rendered blood red in the photo, haha) at our Boskone table in February, and sold out of what we had, doncha know!)

And further congratulations are in order to Yukimi Ogawa, whose collection Like Smoke, Like Light was listed by Publishers Weekly as one of seven Best SF/Fantasy/Horror Books of 2023! Watch for a promotion built around this delightful honor in the (hopefully) near future.

________________________

Last but hardly least, I participated with authors Arula Ratnakar and Michael Swanwick in a delightful discussion about using research to inform fiction, hosted Nov. 3 by the International Association for the Fantastic in the Arts.
Perhaps next year I'll have it together enough to return to blogging about cool things before they happen . . . but I'm not planning to hold my breath, hahaha!