Mythic Delirium, Clockwork Phoenix now available at Weightless Books
Mike Allen
/ Tuesday, December 13th, 2011 /
No Comments »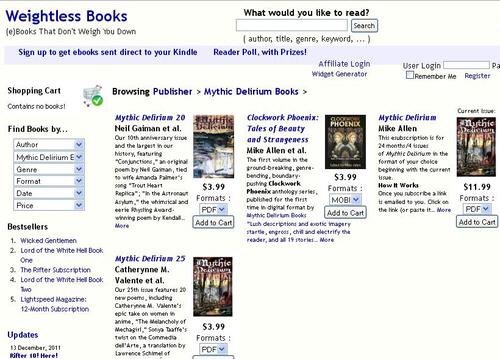 So I kicked off the month with both a new issue of Mythic Delirium 25 out in print the first volume of Clockwork Phoenix re-released as an e-book.
I started out making Clockwork Phoenix directly available for Kindle, but if you would rather support a small business instead, well, you can. Today the book became available at Weightless Books, run by Gavin Grant and Michael J. DeLuca of Small Beer Press. Same price as the Amazon version, available in .epub format as well as .mobi.
And that's not all. For the first time ever, I am offering an 2-year electronic subscription to Mythic Delirium, also through Weightless Books. These are PDF files that preserve all the interior illustrations. For starters, I've made the current issue, silver No. 25, available in e-form.
Last but hardly least — the 350-copy run of our 10th anniversary issue, which features a Neil Gaiman poem with a specially-hand colored illustration, is about to sell out. I've got one left. No joke. (Well, technically I have one more — the only one Neil actually signed — but I have special plans for that one.) From this point on that issue, which also contained Kendall Evans' and Samantha Henderson's Rhysling Award winner "Into the Astronaut Asylum," will be available only as a PDF, which Weightless Books gets to sell for me.
I hope you'll check them out.