Clockwork Phoenix 2 stories included in Hartwell & Cramer's Year's Best Fantasy 10
Mike Allen
/ Wednesday, December 21st, 2011 /
No Comments »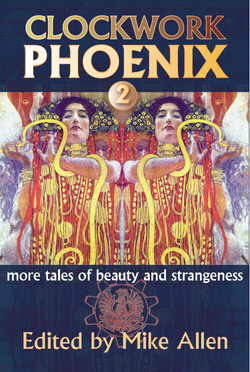 I'm proud to be able to announce that two stories from Clockwork Phoenix 2: More Tales of Beauty and Strangeness are going to be included in David G. Hartwell & Kathryn Cramer's Year's Best Fantasy 10, forthcoming from Tor.com.
They are the novelette that opens the anthology, "Three Friends" by Claude Lalumière, and Saladin Ahmed's Nebula Award-nominated "Hooves and the Hovel of Abdel Jameela." Congratulations, guys!
This is, of course, the perfect excuse for me to mention (again) that I'll be bringing Clockwork Phoenix 2 out as an e-book under my Mythic Delirium Books imprint next month, and that the first volume of Clockwork Phoenix is available now in e-format at Amazon.com and from Weightless Books.