Clockwork Phoenix 2 reborn as e-book
Mike Allen
/ Tuesday, March 13th, 2012 /
No Comments »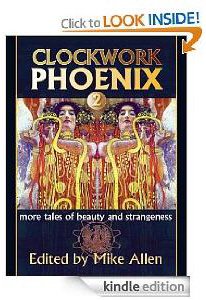 Three months later than I originally planned, I've finished converting Clockwork Phoenix 2: More Tales of Beauty and Strangeness to e-book format. It's available now on Amazon for Kindle and will soon be available in EPUB and MOBI format at Weightless Books.
Between reacquainting myself with the Clockwork Phoenix books and some of the reprint sales I've made it seems like I've spent much of the past four months walking down memory lane. This stretch is particularly gilded: it's a bit mind-boggling to me how well this book and these stories wound up doing. To enumerate:
• Overall, first starred review in Publishers Weekly for a Norilana Book (and for anything I've put together.)
• "Hooves and the Hovel of Abdel Jameela" by Saladin Ahmed was a 2009 Nebula Award finalist, picked for reprinting in Nebula Awards Showcase 2011 and Hartwell and Cramer's Year's Best Fantasy 10.
• "each thing i show you is a piece of my death" by Gemma Files and Stephen J. Barringer was a finalist for the 2010 Shirley Jackson Awards and the 2010 WSFA Small Press Award for Short Fiction and was reprinted in Ellen Datlow's Best Horror of the Year 2.
• Ann Leckie's "The Endangered Camp" was reprinted in Horton's Year's Best Science Fiction and Fantasy 2010.
Claude Lalumière's "Three Friends" was also selected by Hartwell and Cramer for Year's Best Fantasy 10.
• Tanithe Lee's "The Pain of Glass" and Gemma and Stephen's novelette made the 2009 Locus Magazine Recommended Reading List.
• Gardner Dozois, in his Year's Best Science Fiction 27, gave honorable mentions to Kelly Barnhill's "Open the Door and the Light Poors Through," Leah Bobet's "Six," Marie Brennan's "Once a Goddess," Mary Robinette Kowal's "At the Edge of Dying," Barbara Krasnoff's "Rosemary, That's For Remembrance," Ann's story, and Claude's, Tanith's, and Gemma and Stephen's novelettes. That's well over half the book!
• Datlow, in her extended Honorable Mentions list for that year, gave nods to Ian McHugh's "Angel Dust" and Barbara's short story.
If there's anything else (whew!) I don't remember it right now….
This review of the anthology by Amal El-Mohtar remains my personal favorite. I'm glad to book this "choir of the uncanny" for performances in a new venue.
P.S.: It occurs to me that I should link to the first volume too!