New issue of Goblin Fruit featuring Mythic Delirium artist Paula Friedlander
Mike Allen
/ Tuesday, April 24th, 2012 /
No Comments »
A new issue of Goblin Fruit is always a reason to celebrate. And I'm delighted that this issue's guest artist is none other than longtime Mythic Delirium contributor Paula Friedlander.
Goblin Fruit co-editor Amal El-Mohtar is also a contributor to the latest issue of Mythic Delirium, and received her copy in time to pose the two newborn issues together. Note that by coincidence (or is it?) they are color coordinated.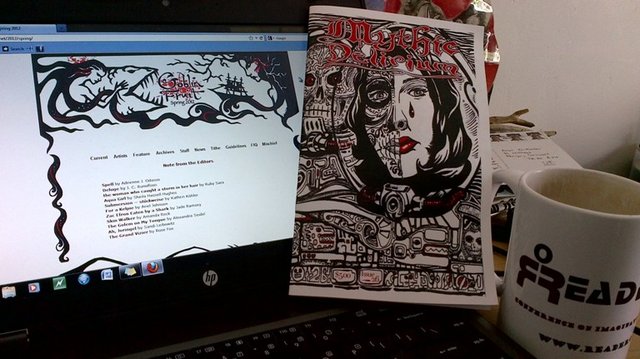 The ReaderCon cup (also black and red on white) is not insignificant: ReaderCon is where we've held joint readings of our two venues and hope to hold a celebration of mythic poetry this year. Well done, Miss Amal.