Short story "Strange Wisdoms of the Dead" reprinted in Ocean Stories
Mike Allen
/ Monday, June 18th, 2012 /
No Comments »
Update: There's a Goodreads giveaway of Ocean Stories open for entries through June 25.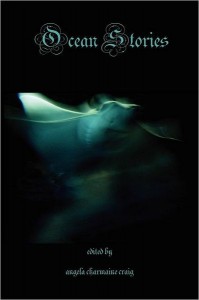 Continuing the curious wave of reprints I've had this year, my short story "Strange Wisdoms of the Dead," co-written with Charles M. Saplak, has just (re)appeared in the anthology Ocean Stories, edited by Angela Chairman Craig. The book is available at Amazon, at Barnes & Noble, and at the publisher's website, Elektrik Milk Bath Press.
"Strange Wisdoms" first appeared in 2006 in the late lamented H.P. Lovecraft's Magazine of Horror, and was also (at the publisher's insistence) the title story of my poetry and prose collection that came out that same year. The collection, and the story, received a nice nod from The Philadephia Inquirer:
As in a really good etching, Allen's landscape may be gray, but the gray scale has a remarkably wide gradation of shades. Touches of humor are like flecks of light in the gloom … there's the moment when Starkey, the protagonist of the title piece—a prose fiction that concludes the book—comes upon a ghostly navigator on the corpse-laden ship Starkey is supposed to be taking out to sea to set afire:

""You're using our known course and speed to chart our position?" Starkey asked.

"Yes," the man answered.

"I believe we call that 'dead' reckoning," Starkey said, grinning.