A new reward for the MYTHIC DELIRIUM Kickstarter
Mike Allen
/ Monday, July 1st, 2013 /
No Comments »
Taken from our first update, posted last night (6/30.) To visit the Kickstarter, click here.

Howdy, MYTHIC DELIRIUM backers (and all the others who read this.) #SFWAPro
First, my thanks to all of you who've backed the project so far. It's only been six days, and this Kickstarter has already passed the halfway mark. I'm humbled and amazed that this esoteric project has so much support, thank you so much! That $1,300 will fund a full year of issues, from July 2014 to June 2015. Of course with the all-or-nothing nature of Kickstarter we still have to raise the remaining $1,200 or we get nada, so there's lots of work left to do.
Even though we're ahead of schedule I'm not taking anything for granted. That's why I'm pleased to announce that we're adding a new limited reward. For our new $45 backer level, Paula Friedlander, a long time illustrator for MYTHIC DELIRIUM, is offering ten signed 8″ x 10″ Giclée fine art prints of her paper cutout artwork "Triptych," which began life as illustration for Dan Campbell's poem "Triptych: an Offering of Fruit" in MYTHIC DELIRIUM 26 (print issue, Winter/Spring 2012 — you can read the poem, by the way, if you click here.) Paula afterward created a color version of the illustration that Anita and I loved so much that we asked her to modify it so that we could re-use it as the cover for MYTHIC DELIRIUM 0.2,  coming in October. Check it out below and I think you'll see why: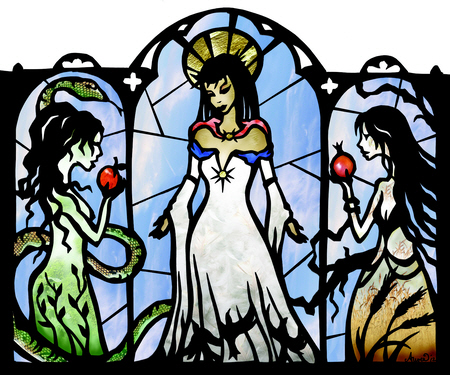 I note that Paula also created the cover for one of our other rewards, the signed and numbered edition of THE IMMIGRANT by Cherie Priest.
Last but not least (for now) — as of this morning, MYTHIC DELIRIUM 0.1, the first issue of this new electronic incarnation, is already ready already. Though it feels like a bit of a gamble, as we're not fully funded yet, I've decided that it's not fair for the folks who've backed us so far to have to wait until July 24 to read it. So this update will be followed by another one for BACKERS ONLY with instructions on how to get your copy now.
The corollary to this, obviously, is that if you want to read a copy now and you're NOT a backer, I hope you'll consider becoming one.
Thanks folks for all you've done so far. Whatever you can do to further spread the word, we'll be grateful for the help.