Mythic Delirium Kickstarter update: stretch goals and add-on rewards
Mike Allen
/ Wednesday, July 17th, 2013 /
No Comments »
Cross-posted from Mythic Delirium Kickstarter update #9:
Hi, folks! Anita and I are back from ReaderCon in Boston and have recovered enough from a productive and exhausting trip to pick the Kickstarter ball back up again. I'm grateful to all of you folks who've backed us so far for your faith and your patience, and I'm amazed and delighted at how this Kickstarter continued to grow during the time we couldn't devote our full attention to it. We don't have long at all to go to reach our $3,250 stretch goal, but we do have only six days left to do it in.
As an added incentive, when this Kickstarter passes $3,000, I'll post an amusing video made during our room party Saturday night. It's PG, I promise.
While we were at ReaderCon, Anita finished making the special jewelry pins that we've offering at the $75 reward level. Here's a gander at them that I took with my iPhone in our hotel room. No two are alike, though all contain the "message tube" holding the cover of Mythic Delirium 0.1.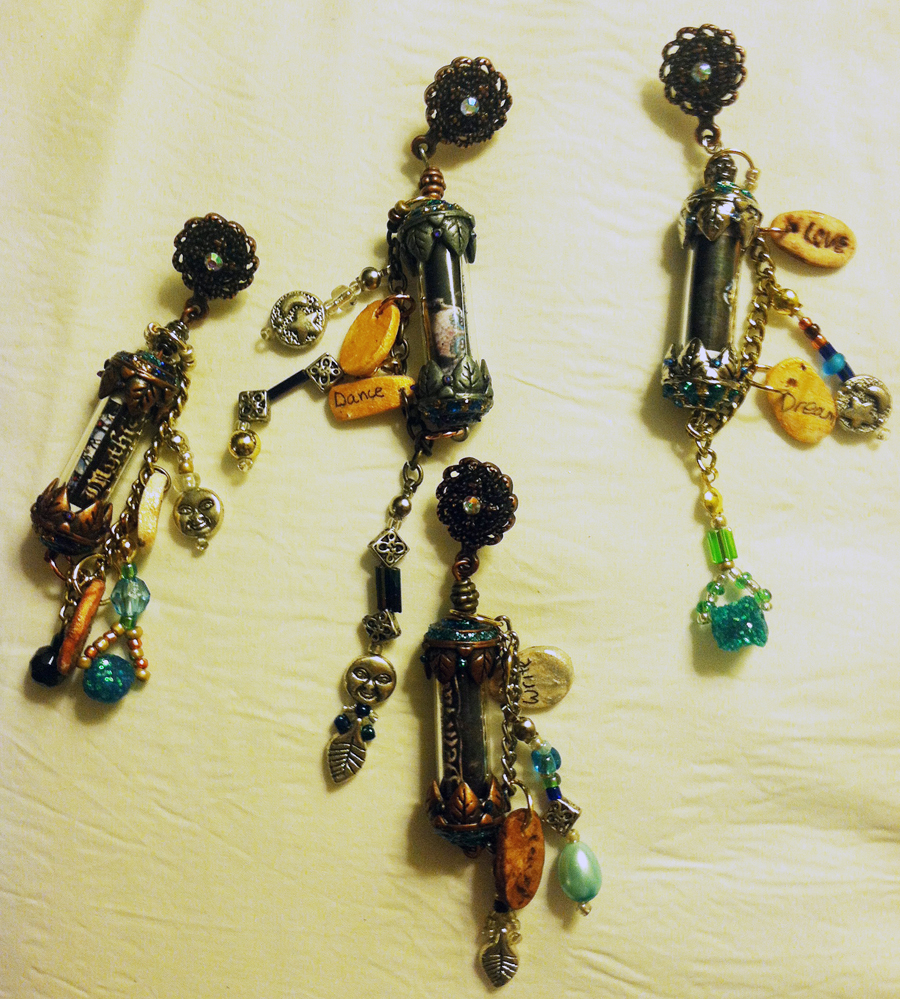 Consistently throughout this Kickstarter, I've been asked about add-on rewards. This possibility never came up for discussion during our previous campaign to raise the funds to publish the Clockwork Phoenix 4 anthology. Because of this, I didn't build them into the Mythic Delirium Kickstarter reward system from the start, and I also didn't know I could adjust the limited reward totals if those rewards were claimed as add-ons. Now I know I can do that.
So here is a simple add-on system that I think is fair to those who have already pledged and might want to add something more. First, to obtain an add-on you must pledge at the $25 reward level at minimum.
You may then increase your pledge by the following amounts to obtain these reward items:
$5 (outside U.S. $8): your choice of a print back issue of Mythic Delirium (36 left)
$5: E-book copy of my forthcoming Hungry Constellations poetry collection
$10 (Outside U.S. $15): subscription to the last two remaining print issues of Mythic Delirium
$20 (Outside U.S. $30): special edition signed "Triptych" art print by Paula Friedlander (9 left)
$25: poem critique by myself and Anita (8 left)
$25 (Outside U.S. $30): signed limited edition of The Immigrant by Cherie Priest (2 left)
$50 (Outside U.S. $60): Mythic Delirium jewelry pin by Anita (18 left)
$75: story critique by myself and Anita (2 left)
If you decide to take advantage of these offers, you must message me through Kickstarter or email me at mythicdelirium@gmail.com to tell me what you're pledging for so I can keep track of how many are left.
There is are also a special add-on that we have been offering through the backers-only updates — but obviously, you have to become a backer to see what it is. #SFWApro
Again, folks, thank you so much for all the support you've given us. Not long now!