Just Book Reading reviews THE BLACK FIRE CONCERTO
Mike Allen
/ Thursday, October 3rd, 2013 /
No Comments »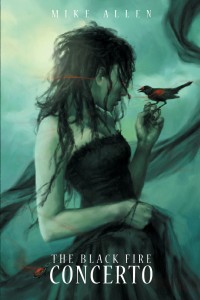 The reviewer behind the Just Book Reading blog just came out with a review of The Black Fire Concerto. Not all reviews are like surprise presents, but this one is.

I listened to the first part of this book when it was featured on Tales to Terrify. It was wonderfully creepy and I had a picture of this world in my head so when the book arrived I was anxious to get started. The world of Erzelle and Olyssa held true and I found myself rushing through this story full of ghouls, flesh eaters, magically driven harvesters of the dead … The Black Fire Concerto packs a lot into its few pages. I was satisfied by the end but I wanted more. It was just that good …

Earlier, Amy at Just Book Reading reviewed C.S.E. Cooney's reading of the first part of my novel, "The Red Empress," at Tales to Terrify.

The narrator, C.S.E. Cooney stuck the perfect tone. Her voice a perfect fit for the story … The first part sets the stage for more to come and I want more of this broken and deranged world.

#SFWApro