Arkham Digest praises UNSEAMING and interviews me
Mike Allen
/ Thursday, September 25th, 2014 /
No Comments »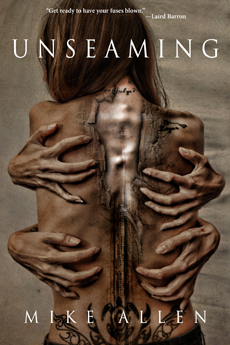 Justin Steele of Arkham Digest reviewed my about-to-be-released horror collection Unseaming last week, and he liked it a lot. A whole lot:

Mike Allen is mostly known as a poet, and an editor for Mythic Delirium and Clockwork Phoenix, and up until now I hadn't read any fiction from him, which is unfortunate because these stories could very well snag him an award for best collection … It is my belief that Mike Allen is about to grab a lot of attention with this book. The sporadic publishing of his fiction over nearly two decades has helped him fly under the fiction radar. This changes with his collection. This is where he crashes the party, strutting in like a rockstar, with the skills to back it up.

Color me thrilled and maybe even a bit blushy, heh. The full review goes into quite a bit of detail, with nice things to say about almost all of the stories in the book.

Justin also interviewed me. Again, from his introduction:

Author/Poet/Editor Mike Allen recently blew me away with his debut short fiction collection … Unseaming collects short stories from a span of sixteen years, and quite frankly is one of the best short story collections of the year.

In the interview I ramble on about a lot of things, including why I write horror, who I like to read, and what's coming up next.

#SFWApro