Giveaway at SF Signal: 13 copies of UNSEAMING
Mike Allen
/ Wednesday, October 1st, 2014 /
No Comments »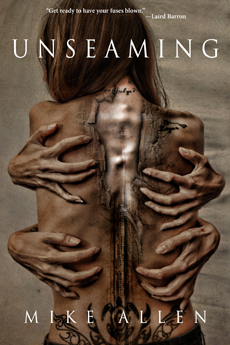 I find myself in a bit of a fix this week, albeit a good one, I suppose — stuff is coming together faster than I can keep up with it (at least in terms of signal boosting on social media.) This particular thing I wanted to report right away: SF Signal is hosting a giveaway of 13 copies of my short story collection Unseaming. It's an appropriately Halloween-y number that includes three print copies and 10 ebooks:

Psst! Do you like…weird?

Courtesy of Mike Allen, SF Signal has 13 (3 physical + 10 eBook) copies of Mike Allen's creepy collection Unseaming to give away to 13 lucky SF Signal readers!

Read the full details, including instructions to enter, here.

#SFWApro