The last Claire-dare poem and a look back
Mike Allen
/ Wednesday, April 15th, 2015 /
1 Comment »
So, at the end of 2010, I thought my days of writing poetry were behind me. I had gone from someone excited about speculative poetry, who advocated for it anywhere the opportunity arose, to someone so burned out and dejected by the state of the scene that I doubted I'd ever write it again. It depressed me to no end. (For evidence, what I wrote back then in a locked post: "For many months, when it comes to writing poetry, I've been blocked. Even the thought of trying depressed me.")

Along came C.S.E. Cooney, who rained down prompts on me and encouraged her friends and family to do the same. (Nicole Kornher-Stace, Patty Templeton and Sita Aluna (Claire's mum!) all participated, as I recall.)

And it worked. The wall that kept the poetry from me crumbled away. The result: a cycle of a dozen poems that I call the Claire-dare poems, that have a special place in my dark heart.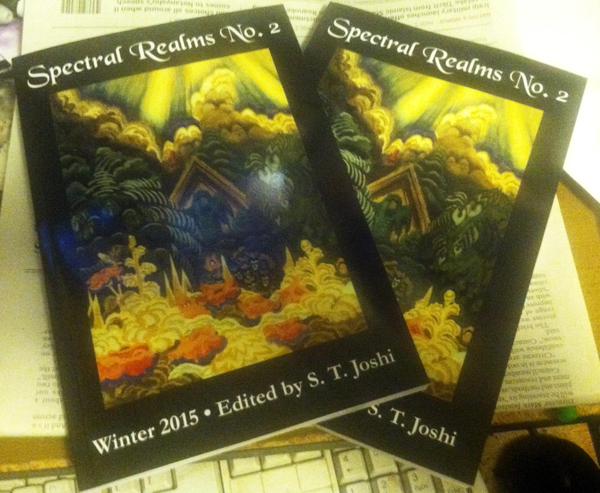 As of this spring, the last unpublished Claire-dare appeared in the world — with the appearance of "
The Bone Bird
" in the latest issue of
Spectral Realms
— and I wanted to take stock of the series. I've listed them in the order I wrote them, still preserved in a series of locked Livejournal posts. Then noted where they ended up and when, and if it's still possible to read them or get hold of them, I've included the link:
"Sad Wisps of Empty Smoke," Van Gogh's Ear, Jan. 9, 2015
"Binary," Fantastique Unfettered 4, December 2011
"Empty Nest," Illumen, Spring 2011
"The Bone Bird," Spectral Realms 2, Winter 2015
"Heart's Delight," Not One of Us 46, October 2011
"The Vigil," Goblin Fruit, Autumn 2012
"Sisyphus Crawls," Fantastique Unfettered 4, December 2011
"Seed the Earth, Burn the Sky," Fantastique Unfettered 4, December 2011
"These Wonders Are Yours," Illumen, Spring 2011
"A Prayer," Fandom Forever 1, March 2012
"The Unkindest Kiss," Apex Magazine 20, April 28, 2011
"La Donna del Lago," Strange Horizons, August 22, 2011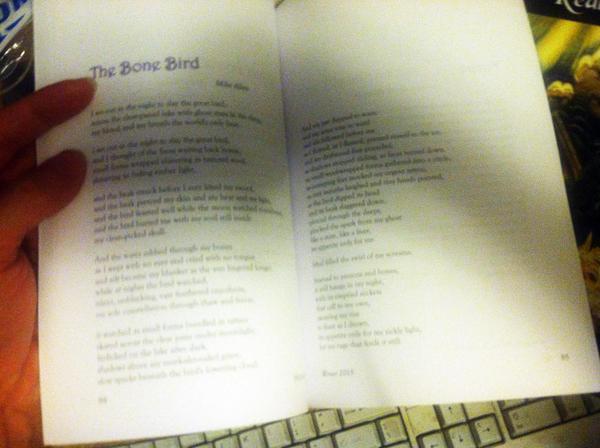 Once upon a time I wouldn't have thought twice about gathering these up into a chapbook of some sort. Any thoughts out there about this idea?
(I should mention that the new
Spectral Realms
also holds a rare "Dwarf Stars"-sized poem from me, "Purloined." And that an upcoming issue will contain the poem I actually co-wrote
with
C.S.E. Cooney, "Toujours Il Coûte Trop Cher.")
#SFWApro