THE QUILTMAKER limited edition is here!
Mike Allen
/ Wednesday, June 10th, 2015 /
1 Comment »
Erzebet YellowBoy Carr of Papaveria Press has taken my most relentless horror story and shaped it into something beautiful. The Quiltmaker is available now in a very limited edition, a hand-bound hardcover with stunning cover art from Paula Arwen Owen.


I've long admired Erzebet's beautiful handmade books, and I'm supremely honored to at last have one of my own. Only 18 of these were made, and only 13 are still available. (One copy is going to lucky
Clockwork Phoenix 5
Kickstarter backer Tricia Murray as a giveaway prize.)
They're $25 plus shipping, which is an absolute steal. You can buy them directly from Erzebet
here
.
Here's a shot from Erzebet of the books when they were in progress:
And here's a much less accomplished photograph of the book here in Roanoke: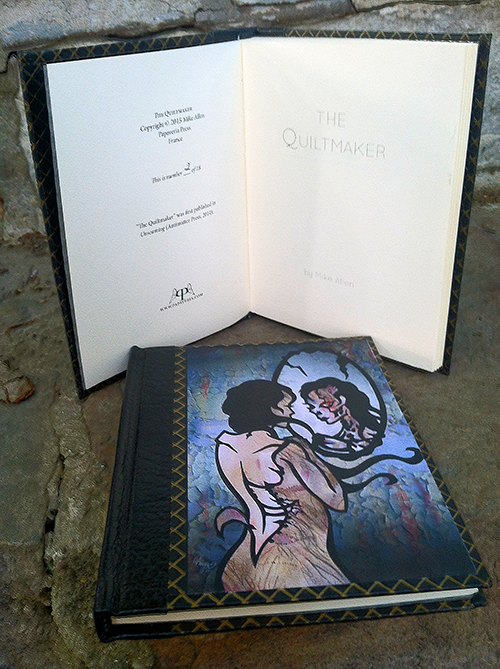 But how big are they, really?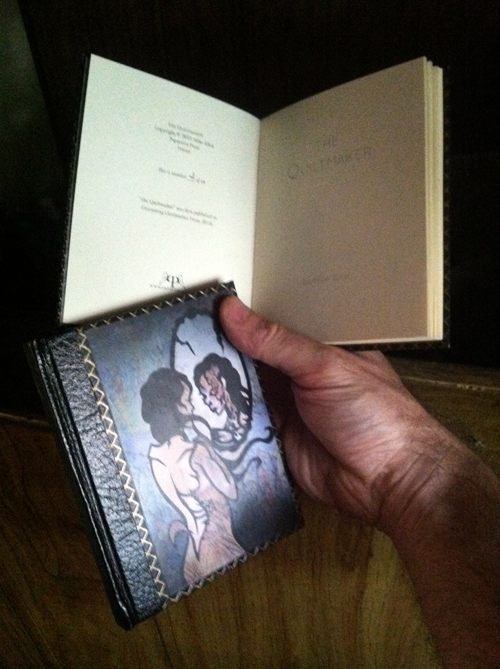 As an added bit of fun, the poetic blurb we came up with for the book:
A quiet neighborhood seething with hidden sins.

A troubled son returned, consumed by an evil beyond human ken.

That will seek what his neighbors keep concealed, not just behind their doors, but inside their skins.

A force that will peel them open, and stitch them all together again.
THE QUILTMAKER
#SFWApro