PUBLISHERS WEEKLY reviews THE SPIDER TAPESTRIES
Mike Allen
/ Sunday, January 31st, 2016 /
No Comments »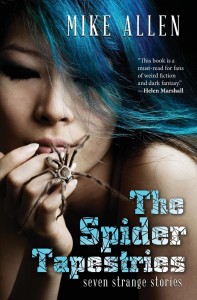 This past week, Publishers Weekly reviewed my new short story collection, The Spider Tapestries, and I feel like one lucky author, because whoever wrote the review seems to have understood my super-strange little book on every level.
The gist of the review:
"Elegant language and surrealistic themes defy genre and moral expectations in the weird and transgressive stories found in this collection . . . Allen's pairing of individualistic suffering and cosmic hugeness evokes a lyrical friction between dread and wonder."
Click here to read the whole review. The reviewer highlights stories "The Spider Tapestries," "Sleepless, Burning Life," "She Who Runs" and "Still Life With Skull," over half of the "seven strange stories" in the book.
The Spider Tapestries officially goes live March 1, and is available for pre-order just about everywhere, in paperback and e-book formats.
Most of the book promo plans I have this year involve throwing whatever weight I have as a publisher behind Clockwork Phoenix 5, so I have no official plans for a Spider Tapestries launch. However, I'll likely be reading from it at Mysticon here in Roanoke at the end of February. (It's sold out, but if you happen to be going already, stop by and say hello.)
#SFWApro