New poem in STAR*LINE; new review in RUE MORGUE
Mike Allen
/ Monday, November 20th, 2017 /
No Comments »
So this was a surprise. I'd thought my poem "The Headless Hero" in the October issue of Dreams & Nightmares was going to be my last published poem for a while. But then a poem I had sent to Star*Line came out in the Fall 2017 issue just a month after I received a letter from the new editor expressing interest, thus proving my pronouncement about "The Headless Hero" greatly exaggerated.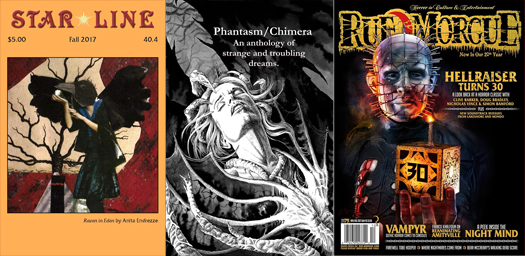 "Draught" is a nightmarish rendition of a game of checkers. I wrote it some time back, I'm not quite sure what inspired it, whether it was a literal nightmare or a random musing.
Speaking of nightmares, Scott Dwyer's anthology Phantasm/Chimera: An Anthology of Strange and Troubling Dreams received a glowing review in the Nov./Dec. 2017 issue of Rue Morgue, especially fun for me as the cover story celebrates the 30th anniversary of the first Hellraiser film.
My story "Binding" is one of the works highlighted in Dejan Ognjanovic's review, accurately described as "an urban legend told among students about the sinister campus library." Also highlighted: tales by Brian Evenson, Clint Smith, Livia Llewellyn, Christopher Slatsky, Matthew M. Bartlett and Jason A. Wyckoff. Ognjanovic writes, "Don't let this small press [anthology] fall under your radar."
It's a pleasure to get a mention again in the pages of Rue Morgue, which published a flattering review of my horror collection Unseaming back in 2015.
#SFWApro