Patreon launch, new stories and poems, upcoming appearances
Mike Allen
/ Thursday, May 2nd, 2019 /
No Comments »
This week I launched a Patreon to support my writing. For now, I'm starting small. I actually have a grandiose plan for how I could use this page but I'm nowhere near ready to set that in motion — the announcement that Patreon intends to raise the percentage it takes from pledges in the very near future motivated me to get off the fence.
I've made the first chapter of a new novel and an unpublished story that's destined to appear in summer 2020 available exclusively to backers. More content is coming. Click here to check it over: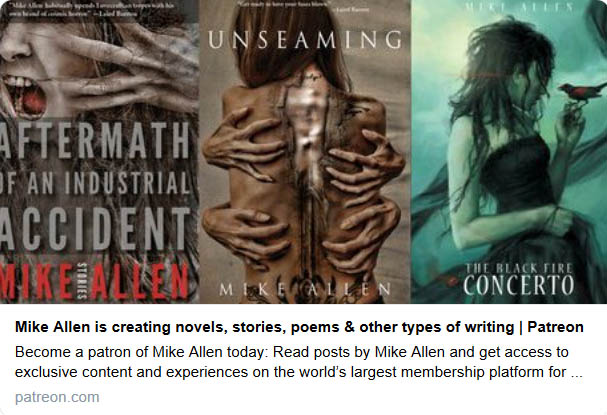 Though I've let a lot of time pass between this blog entry and the last one, it's not because there's been nothing happening. The opposite, really: so much going on that I've had no brainspace for blogging.
ONE: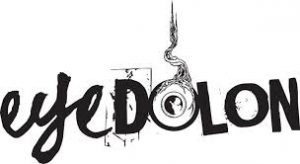 I can at last share the news that my truly nasty horror story "Nolens Volens" will be appearing in the upcoming Broken Eye Books anthology Nowhereville: Weird Is Other People (pre-orderable here) edited by Scott Gable and C. Dombrowski. You don't actually have to wait until the book comes out to read the story, though; it's accessible at the Broken Eye Books Patreon, called Eyedolon, if you pledge a dollar. Plenty of other good reading to be had there too. (And for what it's worth, "Nolens Volens" ties together my story "Gutter," which appeared in Unseaming, with "The Sun Saw," forthcoming in The Leaves of a Necronomicon.)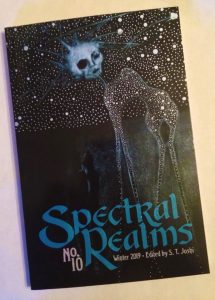 TWO: I'm pleased to share that I've sold a brand new short story, "The Butcher, the Baker," to Scott H. Andrews for Beneath Ceaseless Skies. The story is set in the same fantastical city (Calcharra) as my previous stories published at BCS, "The Ivy-Smothered Palisade" and "Longsleeves." The new story in the series is essentially my version of the famed folk tale "The Gingerbread Boy," but with way more murder. I'm super-proud to be back at BCS!
THREE: My first new poem in two years, "Supernumerary," co-written with S. Brackett Robertson, appeared in February in Spectral Realms #10, edited by S.T. Joshi. Sally and I have two more poems scheduled to come out this year, in print in John Benson's Not One of Us and online in Sandi Leibowitz's new poetry zine, Sycorax Journal.
FOUR: Speaking of Sycorax Journal, my second and third published poems of 2019 appeared there in February and are free to read online: "The Sacrifices" and "Vacant."
FIVE: At the end of March, Anita and I went to the 2019 Outer Dark Symposium in Atlanta, where we got to hang out with a number of fellow travelers in the realms of disturbing, adventurous fiction. I love the Outer Dark Symposium for its erudition and its diversity. The folks behind the Outer Dark podcast have released the audio from Friday night's program, in which I participated in a panel moderated by Gwendolyn Kiste, titled "Flora and Fauna: The Pervasive Presence of Nature in Weird Fiction"; several authors read terrific stories; and Chris Gavaler educated us all in the philosophy behind Swamp Thing. You can listen to the podcast here, and also peruse the reading list of flora and fauna-oriented Weird my fellow panelists and I put together.
SIX: Speaking of the Weird, Anita and I will head to Washington, D.C. in the first week of June, to speak at the Library of Congress about Weird fiction. (My talk is imaginatively titled "Horror and the Weird.") I'm thrilled to be headed back; I did a talk there in December 2008, during a very different epoch in my career, called "The Poetry of Science Fiction." I'm very curious whether I'll see any of the same faces all these years later . . .
There's plenty more, but isn't "Six things make a blog post" the old saying? So I'll save the more for later, and close out with a happy picture.