A new poem in NOT ONE OF US, written with S. Brackett Robertson
Mike Allen
/ Tuesday, September 24th, 2019 /
No Comments »
I spent the last few months so busy that, though lots of things have happened, I've had almost no time and brainspace to post about them here and thus create a more permanent record than what appears on my Twitter and Facebook pages. (A well-meaning friend recently tried to persuade me to add Instagram to my repertoire of more immediate communications, but I have neither the energy for a third social network or an Instagrammable life, heh.)
One of those happening things just yielded an extremely tangible result — that is, a magazine issue that I can hold in my two hands. So I though I would use that a springboard to posting here. More to come, very very soon, I swear.
Last year I co-wrote three poems with S. Brackett Robertson. The first one to reach print, "Supernumerary," appeared in February in Spectral Realms #10, edited by S.T. Joshi.
That poem's older sibling (as in, we wrote it first), called "shore skin," has just arrived in Not One of Us #62. Click here to see the issue's full table of contents, which includes Jennifer Crow, Sandi Leibowitz, Sonya Taaffe, Neal Wilgus and more.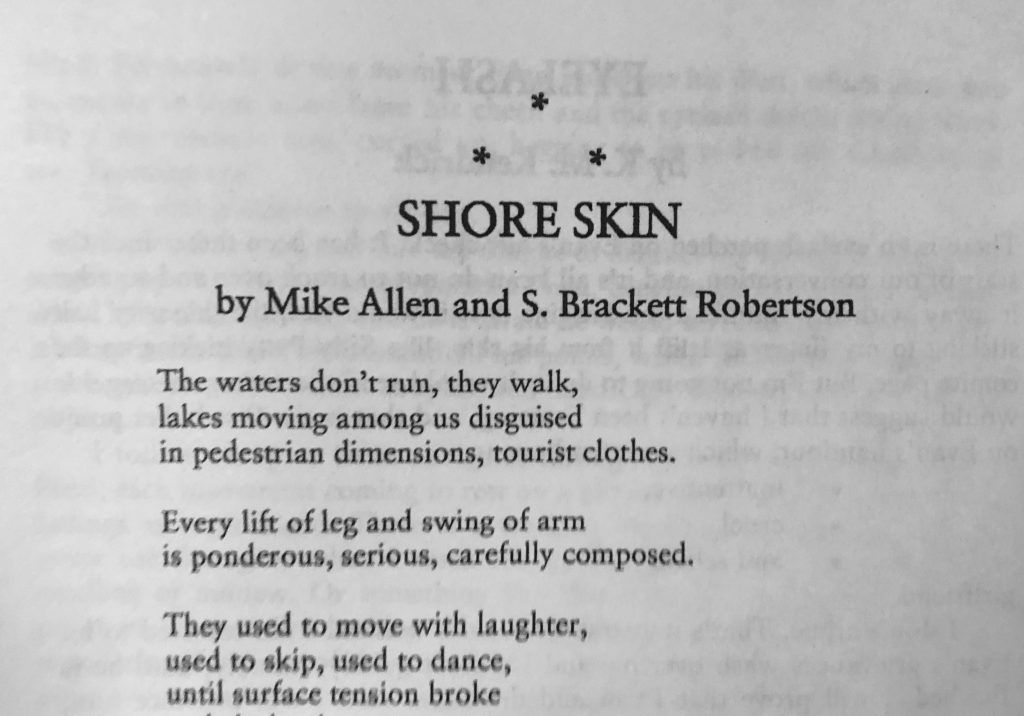 The concept involved imagining bodies of water disguised as humans and, you know, letting it run its course. (Hee hee.) This was the poem that brought me out of poetry retirement, and I have Sally Brackett to thank for that.
John Benson has been publishing Not One of Us continuously since 1986 (whoa!). I first got to be part of his zine in 2008, when he published my novelette Follow the Wounded One as a standalone chapbook. It's wonderful to be back in these pages, and if you'd like a copy of this new issue for yourself, John and his zine absolutely deserve your support. Click here to subscribe.
#SFWApro