Halloween Horror Sale + chance for a free e-book!
Mike Allen
/ Thursday, October 1st, 2020 /
1 Comment »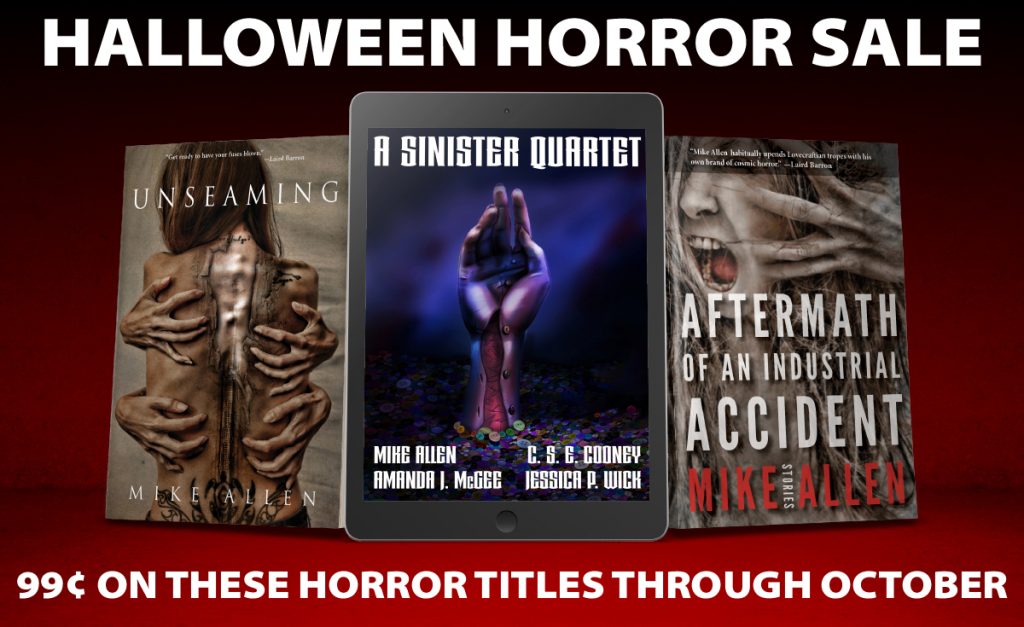 99¢ HORROR SPECIAL
Throughout all of October 2020, Mythic Delirium Books is running a Halloween Horror Special, in which all e-book editions of our principle horror titles — our Shirley Jackson Award- and This Is Horror Award-nominated bestseller Unseaming, our newest anthology A Sinister Quartet, and our newest collection Aftermath of an Industrial Accident — have been discounted to 99¢. You can find direct links to these editions under the book covers below.
I'm going to drop publisher-voice for a moment and just add that these three books contain some of the best writing I've ever committed to paper (or pixels) and the anthology has the added bonus of terrific long form fiction from C. S. E. Cooney ("Sublime,"
Locus
), Jessica P. Wick ("Really fine work,"
Locus
) and Amanda J. McGee ("Fascinating and bold,"
Locus
), so for about $3 you're getting way more than your money's worth. And finally . . .
How to get a free e-book!
HOW TO QUALIFY FOR ANOTHER FREE E-BOOK:
Contact us (well, me) at
mythicdelirium[at]gmail[dot]com
and let me know that you have purchased and now own all three books in the sale (and this also applies if you bought any or all of the trio prior to the sale, in print or as an e-book) and I will let you pick another Mythic Delirium e-book of your choice in the format of your choice (PDF, EPUB or MOBI). Proof of purchase or ownership (such as screencaps or photos) much appreciated but not strictly required. I look forward to hearing from y'all!