Where I'll be at Boskone + two new horror story sales
Mike Allen
/ Tuesday, February 14th, 2023 /
No Comments »
With everything I've had going on — starting a new career, readying a celebration of my little publishing company's 25th anniversary, it's nice to be reminded that I'm a writer, as well. In that spirit, I'm pleased to announce two new short story sales (that I've known of for a little while, but haven't had clearance to share until very recently.)
"Slow Burn," a new Lovecraftian tale featuring recurring characters John Hairston ("The Sun Saw," "Nolens Volens," "The Comforter") and Aaron Friedrich ("Gutter," "The Comforter") is scheduled to appear in the March issue of Cosmic Horror Monthly. I'm pleased to return to those haunted pages!
"The Green Silence," a bit of surreal nastiness, is scheduled to appear in May in The Pinworm Factory, an anthological tribute to David Lynch's twisted masterpiece Eraserhead, forthcoming from Scott Dwyer's Plutonian Press: my fifth story to surface in those dark offerings.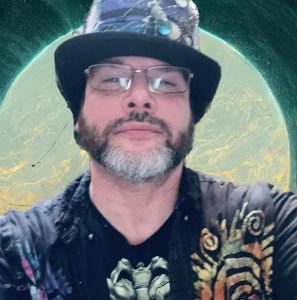 The big event, obviously, is the launch of two new Mythic Delirium Books by Theodora Goss and C.S.E. Cooney at Boskone this coming weekend, Friday, February 17 through Sunday, February. Anita and I will will be running a Mythic Delirium Books table in the dealer's room and there will be events tied to Mythic Delirium, marked thusly. But that's not all I will be up to! Here is the full timeline of my future mischief:
My Boskone Schedule
Friday

7:00 PM:

Murder, Mystery, and Mayhem in Film & TV

. Mike Allen, moderator. Nicholas Kaufmann, John Langan, Toni L.P. Kelner, Stephan Ward. Gritty, grim fiction and suspense fiction are natural bedfellows. What is it about their synergy that works so well, especially in video and film? How do you walk the line between mystery and suspense when there are monsters tearing their way through the plot? And how do the tropes within dark fantasy, science, and horror help generate or amplify those nail-biting moments that keep viewers from looking away from the screen during those moments of do or die?
8:30 PM, VIRTUAL:

Genre Cross-Fertilization

. Kaitlin Nichols, moderator. L.S. Johnson, Tlotlo Tsamaase, Mike Allen, Faye Ringel. Some writers work in more than one genre: not just crossing the boundaries of speculative fiction, but dabbling in mystery, romance, westerns, mainstream literature or nonfiction. Does working in one area influence the way they write in another? Some writers also cross genres in the same work. When they do so, do they expose the readers of each genre to the other, or reduce their readership to those who love both? Are there mixes that work well? Are there others that don't?
Saturday

4:00 PM.

Casting Your Lot with Shirley Jackson.

Gillian Daniels, moderator. F. Brett Cox, Chris Panatier, Katherine Burdine, Mike Allen. From "The Lottery" to The Haunting of Hill House, Shirley Jackson has inspired writers inside and outside of the horror genre and in the process, shaped the genre. We look at how she turns ordinary moments into extraordinary fiction. What more is there to her work and her legacy? Does she continue to inspire and shape horror today?
5:30 PM.

Boskone Book Party/Autographing.

Mike Allen, C. S. E. Cooney, Theodora Goss, Dana Cameron, Michael Green, Andrea Hairston, Laurie Mann, Steve Miller, Yvette Lisa Ndlovu, Annalee Newitz, Cat Scully, Jane Yolen. Come join the fun at Boskone 60's Book Party. You'll meet the authors and publishers who have new books coming out at the con! This is your chance to see what's new from writers you already love, as well as those you have yet to discover.
Sunday

11:30 AM:

Group Reading: Mythic Delirium Books.

Mike Allen, moderator. C. S. E. Cooney, Theodora Goss. Our group reading will feature three readers from Mythic Delirium Books who will each read from one of their published or in-process works. They will also host an author Q&A as time permits.
1:00 PM:

Horror and the Happy Ending

. Mike Allen, moderator. Suzanne Reynolds-Alpert, Zin E. Rocklyn, Bracken N MacLeod, Errick Nunnally. Horror hurts. It bleeds. It keeps us coming back, desperate to know more in the vain hope that the characters might be able to turn things around and survive. Even with the dark and dangerous stories we tell, read, and watch, part of us yearns for a peaceful resolution. While not all endings are horrific, is it horror if it has a happy ending? And what qualifies as "happy" when dealing with horror?
If you don't want to wade through all that detail, here is the short version of my schedule: