A poetry sale
Mike Allen
/ Thursday, May 5th, 2011 /
1 Comment »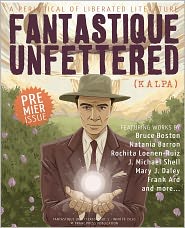 I'm pleased to announce the sale of my poem "Sisyphus Crawls" to the new speculative fiction/poetry market Fantastique Unfettered.
And congratulations to fellow poet Alexandra Seidel, who was appointed Poetry Editor there just days ago.
"Sisyphus Crawls" is a part of what I call the "Claire-dare" series, a group of poems I produced last October after my buddy Claire Cooney (and her friend and mine, Nicole Kornher-Stace, and Claire's mom, Sita Aluna) started bombarding me with prompts. Some of the poems resulted directly from the prompts, some came about simply by virtue of having my "poet's block" dynamited loose. This poem is one of the latter. It's not a sequel exactly to my poem "Sisyphus Walks," but it sort of ups the thematic ante — if "Walks" takes place at the first level of Hell, "Crawls" belongs in the ninth.