A new Mythic Delirium is coming (to a mailbox near you)
Mike Allen
/ Sunday, March 17th, 2013 /
No Comments »
Last week I announced that Mythic Delirium is going to undergo a big change. More about that in just a bit.
This week I get to announce that the newest issue of Mythic Delirium is almost here (and we're on time for once.) Here are the issues-to-be, collated and ready to be saddle-stapled.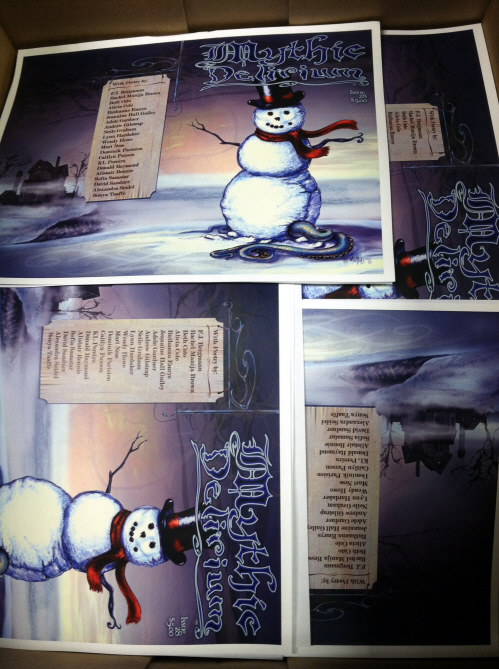 Here's a straight-on look at Tim Mullins' tongue-in-cheek tentacular cover for this Winter Thaw issue.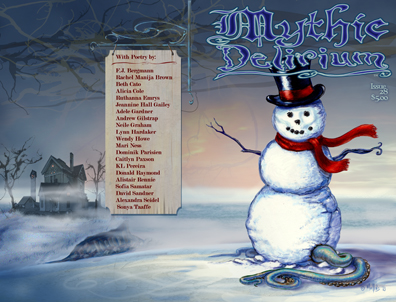 And here's the very serious table of contents.


Editorial: Myths and Delusions

The Theatre Golems by Dominik Parisien

Mice by Beth Cato

The Nostalgia of Roads by Alexandra Seidel

Wheels by Adele Gardner

The Motor Prayer by Donald Raymond

The Princess Becomes a Prophet by Jeannine Hall Gailey

Gleaming by Mari Ness

The Beast by Rachel Manija Brown

skin by Lynn Hardaker

Circe in Manhattan by Wendy Howe

Persephone Set Free by Sofia Samatar

Rare Annie by Caitlyn Paxson

How to Bring Your Dead Lover Back by KL Pereira

Día de los Muertos by F.J. Bergmann

The Green Green Rain by Neile Graham

Doomcall by Alistair Rennie

The Ceremony of Innocence by Sonya Taaffe

Maud Gonne, After by Alicia Cole

The Serpent Explains the Nature of Tricksters to His Wife by Ruthanna Emrys

The Last Siren by Andrew Gilstrap

Revising Horror (The Wrong Mouth) by David Sandner
If you don't want to miss it — and you don't — you oughtta subscribe. Now, as I'm mentioned before, the print edition of Mythic Delirium has an end date; the final print issue will be Issue 30, due out in Spring 2014. If you get a 2-issue subscription (1-year) that doesn't really matter. If you get a 4-issue subscription, though, you're going past that end date. In that case I'll be offering the same thing I've offering subscribers now: an available back issue of their choice, or a partial subscription to the forthcoming electronic edition.
So there's nothing at all to lose if you subscribe. Just in case you were wondering.
And finally: There's a new Featured Poem up on the site: Dan Campbell's "Triptych: an Offering of Fruit", from Issue 26, with a spectacular illustration from Paula Friedlander.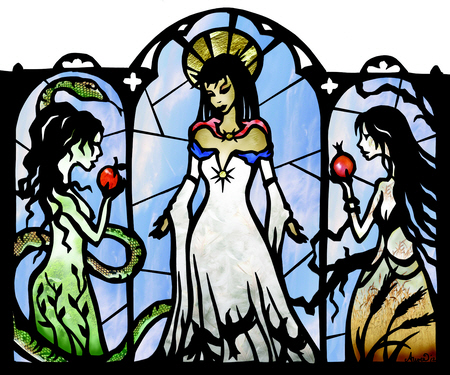 It's been over a year since I've posted a new Featured Poem. I apologize for that. I had originally hoped that the new version of the website would be up and running by now, but I ain't managed it. It has to be up by July, when the new e-version of Mythic Delirium launches. Until then, I hope you enjoy what will certainly be the last of the Featured Poems in the old format.