When it rains … (new stories, new podcasts, new poem, & more)
Mike Allen
/ Monday, November 4th, 2019 /
No Comments »
Rain has been a theme here in Roanoke this Halloween season.
As sometimes happens to everyone in this business, a number of things going on behind the scenes have kind of built into thunderheads at once, resulting in something of a downpour of publication news after months of drought.
The loudest thunderclap: I'm delighted to return to the electronic pages of Beneath Ceaseless Skies (whose editor and publisher, Scott H. Andrews, just won the World Fantasy Award!) with my dark fantasy tale "The Butcher, the Baker." I've described it as "The Gingerbread Man" meets "Macbeth." I also think it's one the most-life affirming stories I'd have published, even as complimentary reviews have called it "tragic" and "grisly."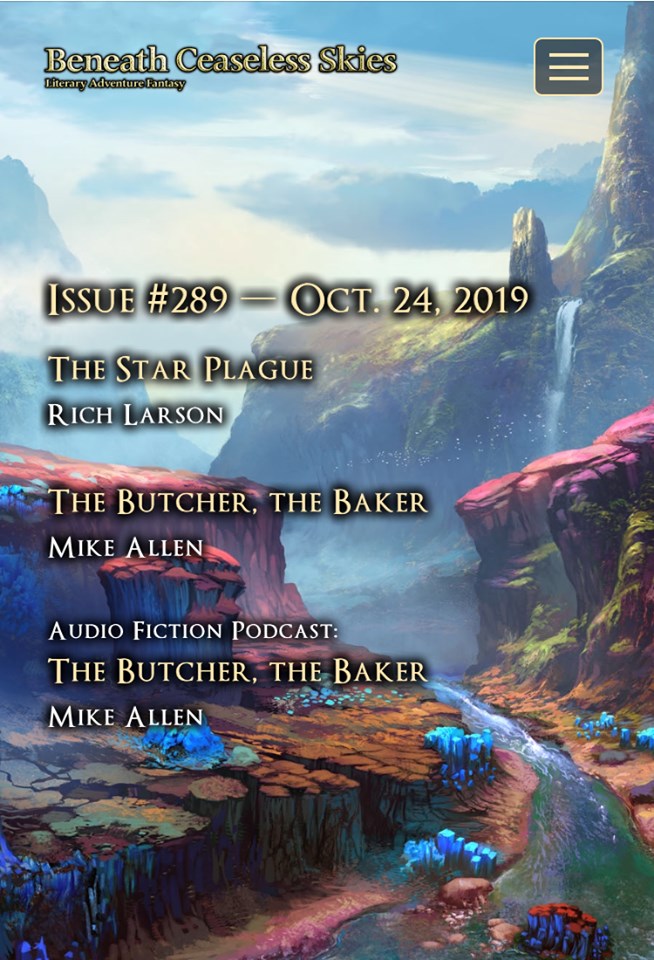 From Charles Payseur's Quick Sip Reviews: "a dark piece, and rather heartbreaking, but worth spending some time with. A fine read!"
The 1000 Year Plan blog included "The Butcher, the Baker" in a roundup of The Best Short SFF of October 2019: "Trukos is the golem-like protagonist of Allen's gripping dark fable about the relationship between creator and creation … The setting and backstory are unique, and Trukos' journey is memorably grisly."
Beneath Ceaseless Skies also released "The Butcher, the Baker" in audio format, read by Michael J. DeLuca, the first time I've been part of the BCS podcast.
(For the record, "The Butcher, the Baker" is set in the same darkly magical city of Calcharra that provides the setting for my previous tales published at Beneath Ceaseless Skies, "The Ivy-Smothered Palisade" and "Longsleeves.")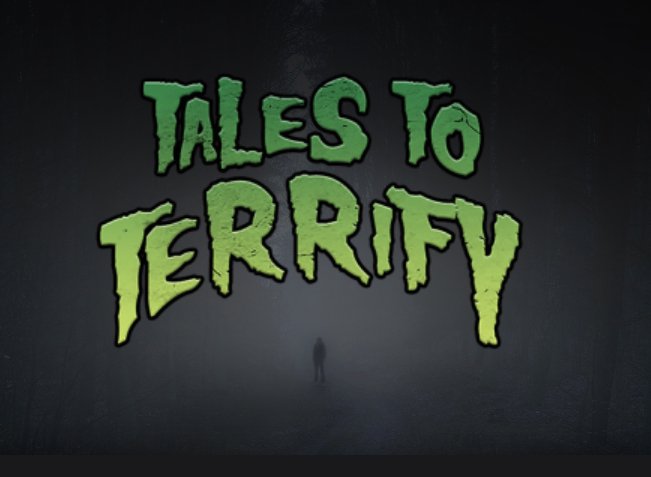 And a lightning strike: Tales to Terrify has released an audio adaptation of my Cthulhu Mythos tale "Drift from the Windrows," that imagines what Lovecraft's creations might accomplish were they involved with developing GMOs, and also tells an extremely dysfunctional love story.
(The story originally appeared in 2016 in the Broken Eye Books anthology Tomorrow's Cthulhu: Stories at the Dawn of Posthumanity.)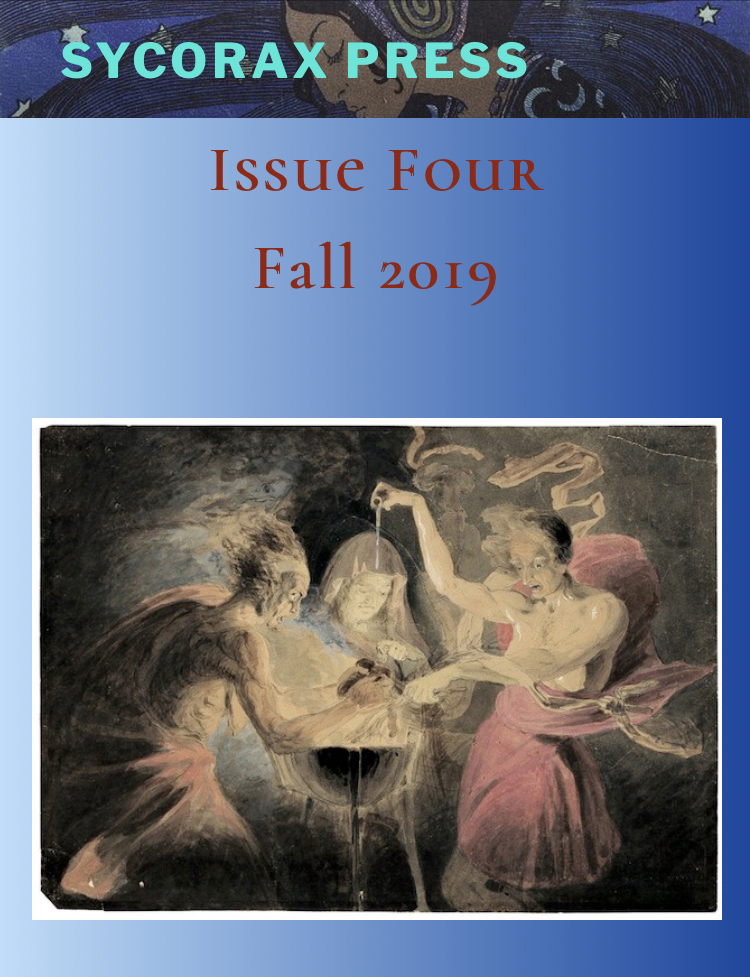 And another lightning strike: my latest poetic collaboration with S. Brackett Robertson, "Seed Our Marrow with Glass," just appeared in Issue #4 of Sycorax Magazine, edited by Sandi Leibowitz.
This is my third collaboration with Brackett to appear in print this year, following "Supernumerary" in Spectral Realms #10 and "shore skin" in Not One of Us #62.
This also my third poem to appear this year in Sycorax, following "The Sacrifices" and "Vacant" from Issue 2.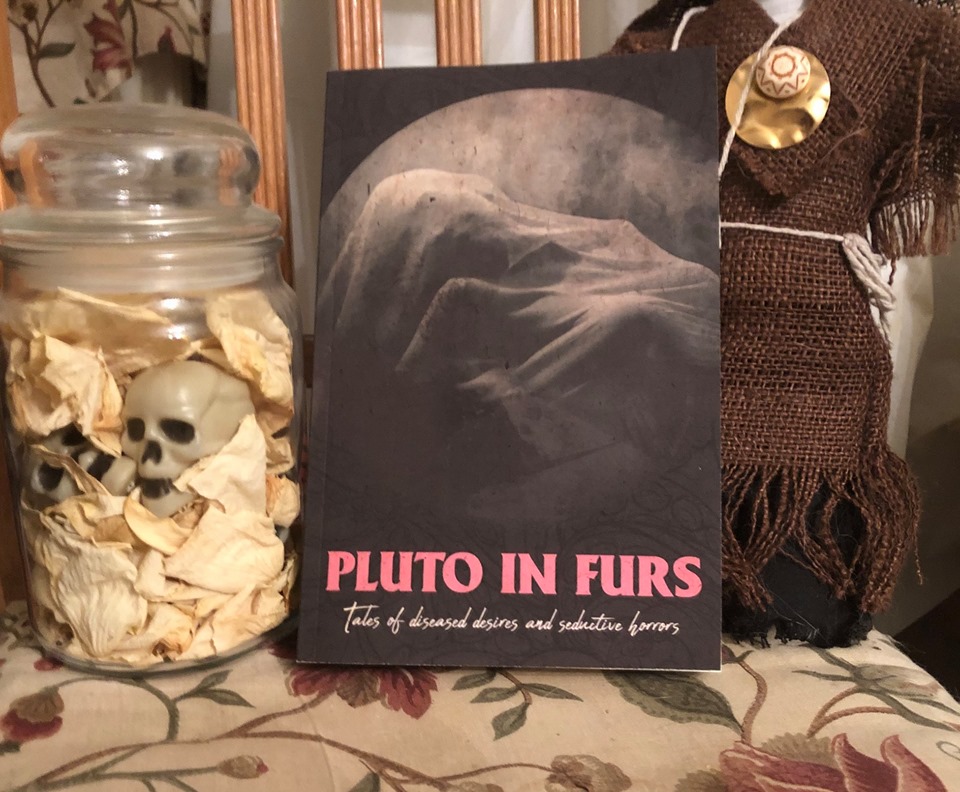 Saturated ground: I received my contributor copy of Pluto In Furs: Tales Of Diseased Desires And Seductive Horrors and I just had to show it off. It includes a new horror tale from me, "What Shining Gifts That Took All Eyes."
Now that I have the book in hand I can share with you the amazing lineup that editor Scott Dwyer put together, that I'm proud to be a part of.
• An Abysmal Masochism (An Introduction) • Scott Dwyer
• The Tangible Universe • Jeffrey Thomas
• With Shining Gifts That Took All Eyes • Mike Allen
• The Wolf at the Door or The Music of Antonio Soler • Devora Gray
• Dermatology, Eschatology • Kurt Fawver
• Headsman's Trust: A Murder Ballad • Richard Gavin
• It's Hard to Be Me • short fiction by John Claude Smith
• The Gutter at the Bottom of the World • David Peak
• Worm Moon • Gemma Files
• Walking in Ash • Brendan Vidito
• The Silvering • Thana Niveau
• Other Yseut and Romance Tristan • Adam Golaski
• Tender is the Tether • Rhys Hughes
• Stygian Chambers • Orrin Grey
• Behemoth • Clint Smith
Finally, a prediction of future flurries: I've not mentioned here before that I sold a new poem, "Urban Renewal," to S.T. Joshi for Spectral Realms #12, scheduled to appear in January.