"Twa Sisters" (new short story) appears in Not One of Us
Mike Allen
/ Monday, April 9th, 2012 /
5 Comments »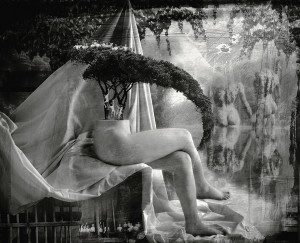 I'm very pleased to be able to announce the publication of my new short story "Twa Sisters." It's a highly experimental science fictional lark that came together from several different point of origin.
The most important threads in the weave come from two places. First, Patty Templeton pointed me at the collages of Italian artist Alessandro Bavari. Second, Nicole Kornher-Stace challenged me to try to write a story they way I write poems. She meant using the same language I use in poetry, but what actually happened was I wound up using the same visual trickery I sometimes experiment with in poems, such as parallel columns of text. I've written many poems inspired by artwork, and so I turned to Bavari's work to draw inspiration for the story's setting. The result piles strangeness on strangeness; it was a pleasant shock to have "Twa Sisters" find a home as quickly as it did, as it pushes limits in all directions as far as I've ever pushed them.
What follows is Not One of Us editor John Benson's complete statement about the new issue, which looks pretty scrumptious overall.
In this, our latest issue, things are not as they seem. We have walls with voices and zoos with mirrors, living dead and sex with ghosts, breasts with blue hair and beasts not quite unicorns, the dead as comfort in despair and angels as messengers of doom, health for the waiting and a secretly shared cortex.
Contents:
The Glass Presence, by Daniel Kaysen
Classroom Wall, with Voice (poem), by Lucas Strough
The Living Dead (poem), by Amanda C. Davis
When the Blue Hairs Grow, by Patricia Russo
Reiselied (poem), by Sonya Taaffe
Here at the End of All Things, by Francesca Forrest
Twa Sisters, by Mike Allen
The Hero's Journey (poem), by Sonya Taaffe
Universal Engines (for Christopher Morcom) (poem), by Jeannelle Ferreira
Dr. Crow (poem), by Jeff Jeppesen
The Waiting, by A.A. Garrison
Black Molly (poem), by Marigny Michel
Art: John Stanton
Not One of Us #47 will be available from Chris Drumm Books, or you can order a copy or subscription right now directly from me .
We'll be mailing the contributors' and subscribers' copies this week.